Naturalization Lawyers in Colorado
We have obtained US citizenship for hundreds of clients, helping them in a safety way.
If your case can't wait, please call us:
Attorneys for American Naturalization in Colorado
Naturalization is the process by which people born abroad can achieve citizenship of the United States, after having fulfilled a series of requirements established by the United States Congress in Immigration and Nationality Law.
By granting citizenship, foreigners benefit from many of the rights of people born in the United States, such as the right to vote, work in the government and be able to travel freely with a United States passport, with which they can enter without visa to many countries.  
One of the most relevant benefits of obtaining United States citizenship is being able to petition immediate family members, through a more agile family immigration process.
Looking for lawyers to apply for U.S. citizenship?
You have permanent residency and want to apply for U.S. citizenship.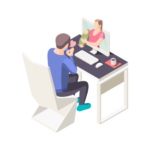 You are a U.S. citizen and wish to file family petitions for:
Parents.
Siblings.
Unmarried and married children of any age.
Spouse.
U.S. Citizenship and Naturalization Lawyers in Colorado
We accompany you throughout the process and prepare you for the Naturalization exam.
Have the legal advise for American Citizenship at Izaguirre Law Firm
Consult with your immigration attorney
Can I take the naturalization test in Spanish?
Yes, as long as you meet the following requirements:
(a) Be 50 years of age and at least 20 years as a legal permanent resident or.
b) Be 55 years of age and have 15 years as a lawful permanent resident.
Also consider that if the person is 65 years of age or older and has lived in the United States for at least 20 years, the person qualifies to take a modified version of the civics test.
Does USCIS publish the naturalization test questions?
Yes. USCIS publishes a complete list of the 2008 and 2020 version of the civics test. 
The USCIS officer will ask the applicant only the civics questions on the lists for both versions of the test. 
What does Continue Residence means as a Naturalization requirement?
To qualify for citizenship, generally applicants must demonstrate they have continuously resided in the United States for at least 5 years before submitting N400 Naturalization form. This means you must be residing exclusively in the United States – not in any other country.
You may travel to another country, including your home country, however, if a trip lasts longer than 180 days, USCIS may determine that you have not continuously resided in the United States and therefore are ineligible for naturalization.
PS: There's an exception to this requirement if you have reasons to work abroad.  
What does Physical Presence means as a Naturalization requirement?
In addition to examining the length of your trip abroad, USCIS will look at the frequency of your travel. To qualify for naturalization, an applicant must spend at least half of their time in the United States. This is known as the "physical presence" requirement. If you take frequent, short trips abroad that result in you spending more than half your time outside the United States, then you will also be ineligible for naturalization.
Will USCIS approve my Form N-400 naturalization application once I pass the reading, writing, and civics portions of the naturalization test?
No. In addition to preparing for the reading, writing, and civics portion of the naturalization test, you will need to prepare for the speaking portion of the naturalization test and meet all other naturalization requirements. The speaking test occurs during the eligibility review. 
Can I legally change my name while my naturalization application is pending?
Yes. You can legally change your name after filing your application for naturalization with USCIS. If your name has changed after you filed a naturalization application, you must promptly provide USCIS with the document(s) that legally changed your name(s), such as a marriage certificate, divorce decree, court order, or other official record. Make sure to mention your name change and bring the documents related to your name change at the time of the interview.
Are there exceptions for medical disabilities persons to take the english and civic test?
Yes. You may be eligible for an exception to the English and civics naturalization requirements if you are unable to comply with these requirements because of a physical or developmental disability or a mental impairment.
To request this exception, submit Form N-648, Medical Certification for Disability Exceptions. This form must be completed by a licensed medical or osteopathic doctor, or licensed clinical psychologist.
What should I do if I have already applied for naturalization and my Permanent Resident Card, is expiring?
A lawful permanent resident is required to have valid, unexpired proof of lawful permanent residence in his or her possession at all times.  Applying for naturalization does not change this requirement.  For this reason, you must generally apply to renew your expiring Green Card even if you have applied for naturalization. 
If I fail a portion of the naturalization test, when will I be retested?
You will be given two opportunities to meet the English and civics requirements. If you fail any portion of these requirements, you will be retested during a new interview on the portion of the test that you failed (English or civics) between 60 and 90 days from the date of your initial interview.
How many times can I apply for naturalization?
There is no limit to the number of times you can apply for naturalization.
Attorneys for obtaining U.S. citizenship in Colorado
Does my divorce affect my citizenship application?
Threats from ex-partners to immigrants are very common and you have many options to apply for citizenship.